Secretary Maia Júnior: "Ceará needs partners"
18:06 6 de December de 2022 Por Daniel Oiticica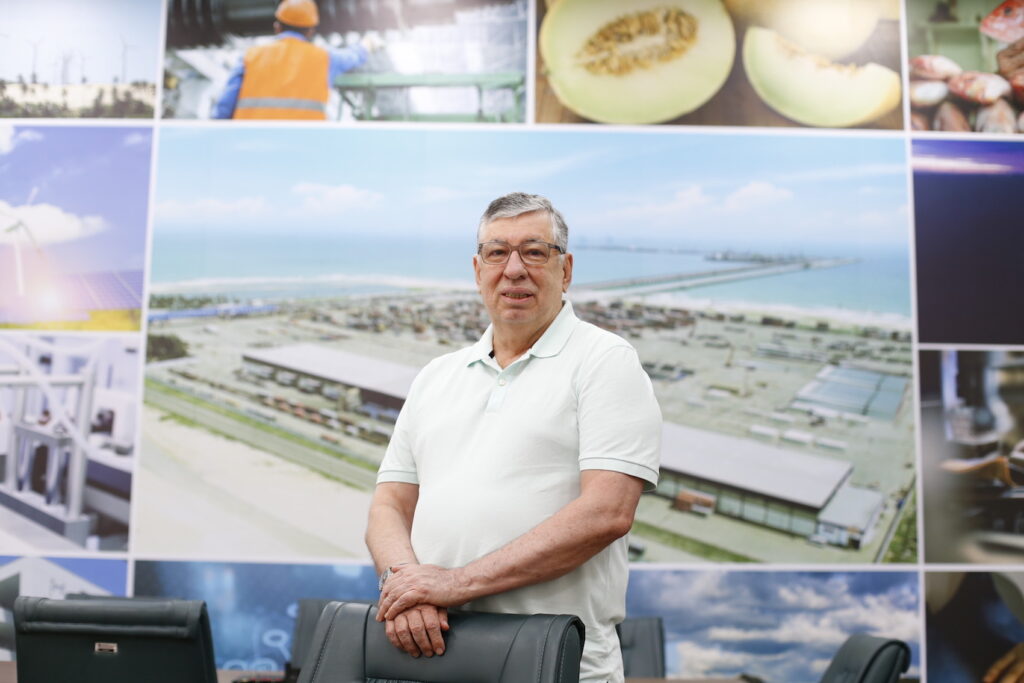 Maia Júnior, Secretary of Economic Development and Labor of Ceará
A good connection between companies, public management, academia, and organized civil society; a gigantic energy transition process already underway; an internationalization process that is consolidated with the launch of the green hydrogen hub; an industrial and port complex with a strategic location and an international level administration. But also, many challenges ahead. It is with a vision of the future and his feet on the ground that Maia Júnior explains the Ceará of 2022, pointing out the paths to sustainable development and a more inclusive economy.
What are Ceará's prospects in terms of economic growth for the coming years?
Ceará has two huge challenges. Despite a virtuous cycle of almost 36 years of transformations, we still haven't reached the fullness of this challenge. One is to have more robust economic growth, well above current levels. Growing between 2% and 3% of GDP, on average, over the last 36 years, alternating low periods and periods not exceeding this average, did not lead Ceará to overcome the great challenges of having a sustained, stable and continuous strong growth. On the other hand, the fight against poverty and the reduction of inequalities is another challenge that we have not yet fully resolved. These two challenges have to go hand in hand, because it is difficult to reduce poverty without investment capacity. Ceará, even with the fiscal solidity it has achieved and even, in the last seven years, being the main investor of public resources proportional to its revenue, still has a very low level of investment to overcome these inequalities and, consequently, offer its population a worthy life. Our economy proved to be insufficient to meet the main demands and needs of the people of Ceará.
In 2023 Ceará will have a new government. What are the guarantees for the continuity of development policies not only in the next period of government, but also in the others to come?
Ceará has matured in its development from the point of view of political unity. In the last 36 years, its governments have tried to improve the model that was proposed and developed at the end of the 80s. The continuity and improvement of these policies have placed Ceará in a prominent position, but not yet in a relevant position from an economic and social point of view. What is expected of the next government is that this good governance will continue, characterized by well-structured governments that prioritize public policies to serve the population well. Even because the result of the Election confirmed the desire of the people of Ceará for continuity with improvements. This majority position shows that the people of Ceará are proud, with high self-esteem towards the Government. I hope that the next governor will understand all of this, will try to expand this range of satisfied people, and will seek what is missing for those who are still dissatisfied, so that Ceará, in a united way, with good governance and good governability, can grow over the next four years. And there is a very favorable point with the victory of President Lula, a political coreligionist and of the same party as the governor elect of Ceará, in whom we are placing great expectations and hopes for a partnership that has not happened in the last six years in Ceará. A good government in Ceará requires a good partnership with the central government.
Speaking of Ceará 2050, Ceará's development platform for the next three decades, what were the thought bases that guided its creation?
Ceará 2050 has the goal of, first of all, finding a more robust economic development model, with the muscle to be able to meet the necessary challenges for Ceará. Another objective is to fight inequality and poverty, generating inclusion and creating opportunities for a more socially balanced state. Increasing income and generating employment are huge challenges. Generating dignity, housing, food security conditions, and urbanization. Along with housing, we have to offer quality schools and health care, and security that guarantees the constitutional principles. We also have environmental challenges. To turn Ceará into a sustainable state from the environmental point of view, with good governance. Establishing a more qualified level of governance is another challenge for Ceará to continue being this great protagonist, not only in public policies, but in public management. Ceará 2050 was elaborated together, not only with governmental, state, municipal and federal institutions, but also with civil society and a wide participation led by the Federal University of Ceará (Uece), besides an unbiased process of searching for a consensus to overcome these challenges for Ceará through the elaboration of a strategy for the next 30 years. Ceará 2050 had very well elaborated studies and a diagnosis of Ceará's history. A work of this magnitude cannot be made without, first of all, diagnosing who we are, what state we are in, what are the main challenges, the main priorities to build a strategic proposal that is closer to being realized.
Ceará's energy transition process is already a reality and promises to be a great environmental legacy for future generations. What impact is this transition causing and will still have on the economy of Ceará as a whole?
I found an extremely fragile economy when I arrived here to work on this new experience that was given to me to lead the development project and the restructuring of the economic sector within the governmental structure of Ceará, which, in this case, was to structure and implement the Secretariat of Economic Development and Labor. Therefore, we had to think within a more organic and systemic vision. We set up a state development system, in addition to the structure that was set up at Sedet and its related secretariats, and in four other important secretariats for economic development. The Department of Tourism, which is highly representative because tourism is one of the most important chains in the current structure of the state's economic development. The Creative Economy, at the Secretariat of Culture, and Family Agriculture and the land action of the Secretariat of Agrarian Development. In addition, the transversality and inclusion within this system of the Secretariat of Science and Technology, with a very large knowledge base, innovation, new technologies, human capital and with a stronger link with the Secretariat of Education. Then came the governance linked to education and development within the State, a program that is ongoing and advancing, with a large program already launched, the C-Jovem, in the IT area, which is a bottleneck in the training of manpower from Ceará. We already had a base from which Ceará was a protagonist in renewable energy projects in Brazil. This environmental issue, so debated in the world, opened the eyes to another role that Ceará needed to have. We were very happy to propose the energy transition, joining the efforts we had in renewable energies with hydrogen, the assembly, as a result, of a larger production hub of renewable energy with the structuring of projects and offshore energy investors and also its chain. Brazil has enormous potential with a very high efficiency rate in the area of ​​energy production, by winds on continental lands, in this case at sea. Today we have three new chains in the economy of Ceará: energy transition, logistics and the telecommunications and IT hub, and it is working. The big challenge for the government that comes, not only from local government, but from other state governments, especially those in the Northeast region, will be the possibilities that Brazil has to be one of the world's great producers of hydrogen and renewable energie. To guarantee sustainability even for exporting to other countries that need energy, and cheap energy at that.
Ceará was invited to participate in COP 27 held in Egypt, the most important United Nations event on Climate Change. What does this presence at COP 27 mean for Ceará and what does it reveal about the relevance that Ceará gives to sustainable development?
Ceará proposed to enter this decarbonization program because it committed to zero carbon emissions by 2050. Ceará is entering a new stage in its history. And that makes Ceará visible, not only in the economic world of hydrogen, but in the world of decarbonization. Governor Camilo Santana was at COP 26, Governor Izolda Cela was at COP 27, with a very relevant agenda. We met with the owner of Fortescue, who announced at COP 27 the strengthening of the investments that the state of Ceará agreed with Fortescue. We expect by 2024 all the engineering projects studies, environmental licensing, economic and financial studies, so that Ceará can start this plant here in Pecém, which is the best structured, the most advanced and one of the largest plants in the world in terms of green hydrogen. In December, the governor of Ceará will inaugurate the first green hydrogen plant in Latin America. A small plant that will serve for studies. It repeats a bit the success of wind energy that when we started, we also built a plant in Porto do Mucuripe, which was fundamental for Ceará to be this protagonist in wind power. We had the opportunity to be received by the UK Chancellery and also by the World Bank and we will have a participation with major countries in the world in the nucleus that will be dedicated to discussions on the follow-up, monitoring, improvement and development of this decarbonization process. Ceará is a reference, we have to see it with pride. Einstein said: "Thinking big and thinking small have the same value. If they have the same value, think big, don't think small, increase the size of your dreams, seek bigger goals to be able to build better results. Another Einstein quote: "Don't do the same thing all your life, try to do it differently". Ceará has bet its whole life on a dream of having a refinery, of prospecting for oil, and we didn't achieve that dream. Now, we have a big real dream, to be a protagonist in the world of producing green hydrogen, the world's new energy. Let's think big, be proud and work hard to achieve these goals. This will change Ceará, without a doubt.
Ceará is today a technological hub, with Fortaleza being the second city in the world with the largest number of submarine fiber optic cables. How was this milestone achieved and what does it represent for Ceará?
I attribute this result, particularly, to one of the economic chains that we have highlighted and are working in Ceará, based on the examples that I have seen in the world, called logistics. I've often seen projects fail because they didn't consider the logistics needed to be competitive. This is a basic point for the economic success of any enterprise. The first multinational from Ceará is called M. Dias Branco, which recently bought a pasta and biscuit factory in Uruguay. A fundamental point for its growth was the structuring, not only in terms of acquisitions, but of a logistics structure capable of making its product reach the markets. Ivens Dias Branco saw the market and then managed to grow quickly, through this cost opportunity that he saw in logistics and medium-low ticket products. Logistics has added a lot of relevance in many countries of the world. There are many examples, and here in Ceará, one of the great examples is that we set up a steel plant without being producers of coal, which is the fuel for the steel plant, of iron ore, which is the main input for transformation. It was the logistics of the Port of Pecém that made the difference, as well as for the green hydrogen hub. Logistics, in my opinion, is the main handicap for submarine cables. The first cable companies needed to connect Brazil with other continents. They looked for the best logistics to be able to connect Brazil internally and Brazil with the world, because data from all Brazilian states and cities are channeled abroad through this intersection point here in Ceará. Ceará already had many of these cables implanted since 1960, with the history of the structuring of telecom planning in Brazil, while still under the military government. We only contributed with the knowledge we had of this opportunity to extend not only these cables, but to create an infrastructure in the state where the Digital Belt was fundamental. With this Ceará gained relevance and today is the third state with the best business structure in connectivity and the third most connected state. I attribute that these cables are here for a logical question and, above all, for the logistics of data transfer.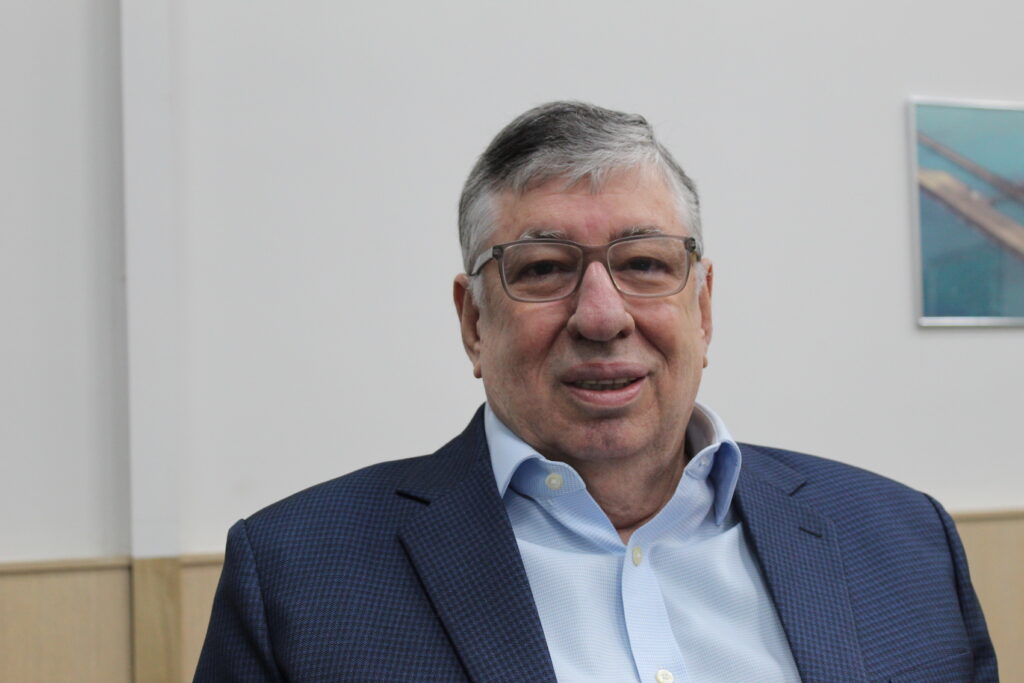 In terms of logistical infrastructure, Ceará counts on the Pecém Industrial and Port Complex (CIPP) as its main attraction, located on the corner of the Atlantic, with a modern administration in partnership with the Netherlands. What is the strategic importance of CIPP for Ceará and for the companies that are there?
When we conceived Pecém, in the 90's, due to the need to attract large investments, we had some challenges, all of them linked to logistics, but Ceará only worked on the highway issue. Within this vision of logistics, we worked on some important points to develop Ceará and we built the two main facilities that Ceará has today to meet the challenges of logistics. One of them is Fortaleza airport, which has already been expanded. It had its first expansion after it was built and delivered, in 1997, and now, recently, the second expansion has been delivered. The other was the Port of Pecém, which is already in its third expansion since it was inaugurated in 2002. These two facilities lead a very large capital, together with the highways, and put Ceará in the forefront in terms of infrastructure. It is through these points that Ceará can really start to dream about a new economy, to seek partners for investment, to multiply these CNPJs that are here generating jobs and tax revenue, for the productive capacity that we have. Pecém, for being a modern port, only 20 years old, for the efficiency with which it was projected and built, and for the results obtained in the first operations, aroused various international interests. Among them, the Port of Rotterdam, which took the decision to acquire 30% of its capital, from the participation that Ceará had. Today, it is 70% owned by the Government of the State of Ceará and 30% by the Rotterdam Port Company, which is a company whose shareholders are the Dutch government and Rotterdam city hall. This partnership occurs exactly because of the results of efficiency, of good governance, of continuous government, of attractive results that Ceará has created in the last years. And with this we gain the great possibility of achieving in the coming years a transformation project that represents the expectation that we have as Ceará citizens, which is to see Ceará growing much more than 2% or 3%. Ceará needs to grow for a number of years in a row between 4% and 6%, at least continuously, in order to overcome its inequalities, with a more inclusive economy. The biggest bet that Ceará has in this sense, without a shadow of a doubt, is the structure that it has created and the answers that it can achieve through the Pecém Industrial and Port Complex and its Export Processing Zone.
In the last few years, Ceará has turned its attention to the international market, conquering a leading role never seen before. What are the bases that made it possible for the state to build this relationship with the rest of the world?
Ceará still has three extremely relevant points to create a greater support for its economy. The first is to improve knowledge, innovation, technology, the training of students with the establishment of a professional training grid, to become a center of intelligence and knowledge. Besides this integration in the field of human capital, Ceará's challenge is to do a very strong job of internationalization, which is what we are trying to do. Out there, everyone needs to know what Ceará is, who Ceará is, what Ceará produces, how we can establish commercial relations not only with Brazil, which is a great market, but with the rest of the world. We need to increase our export and import base. Add value here. We cannot be only a commodity producer, as hydrogen is. Hydrogen in Ceará is a new commodity in the world, not to mention the grain from the Midwest, not to mention the proteins, the meat that Brazil exports. Exporting energy in the form of hydrogen is a new commodity, but we need to add value here, for being a natural producer of this new fuel in the world, to enter this future route, the result of decarbonization. Ceará needs to become more international, we can be a great exporter. We can be a great producer and, who knows, exporter of fertilizer, besides hydrogen. And we need to take advantage of these economic chains that are strong jobs generators with higher added value, which will enable Ceará to retain talent and attract talent. The last opportunity for Ceará to sustain this base, especially in relation to the rest of the world, is the supply of credit. The economic sector needs credit, we need to expand the policy of credit and incentives. We need to see where we are competitive, there is no point in producing what the world does not want to buy. These are huge challenges that we still have and with which we are working in a very big effort to show, not only to Brazil but to the world, what Ceará produces. May the products from Ceará be present not only within the Brazilian states, but in the main countries of the world to strengthen our economy and ensure the growth of local companies.
What are Ceará's challenges to continue consolidating this international role?
To consolidate, we need to think about the continuity and improvement of the policies that are in progress. Avoid what we see a lot, especially in transitions from one government to another. Each government thinks that it is magical and that it will bring better efficiency than the previous one, erasing previous projects. We need to reinforce the improvement of projects that are having good results, this is very important. Seek to be innovative, have differentiated knowledge, offer the world different things, backed by good research. Ceará is increasing research. This is a challenge that the government itself has, for example, in the mining area, in the economy of the sea. These are new frontiers. In addition to this discovery of the ability to produce hydrogen, we need to discover the capacity that we have in the digitization sector. We need to find a knowledge base to strengthen this economy, as we are also finding. Thirty years ago, in Ceará we only produced two crops: corn and beans. Today, Ceará has 25 new cultures, including one that many people from Ceará don't even know the name of, don't even know where it came from, called pitaya. Avocado Raso, what is avocado Raso? It is the old avocado in smaller sizes, today very well used by nutritionists. The blueberry, what is the blueberry? It is the American blueberry. These cultures are being discovered by research. Today, cashew trees, which are not even one meter tall, have ten times greater productivity than these two-, three- or four-meter-tall cashew trees. These transformations, this gain in productivity and this elasticity of knowledge are what will make Ceará a state of high productivity, the result of knowledge, human capital and good business management. Knowledge of how to import, how to export, how to establish relationships with other countries. The governor-elect has told the population that he is going to structure and strengthen a secretariat of international relations, and this is fundamental. Structuring these main thematic policies that will be able to provide better knowledge to find faster solutions for the economy, for the social issue, for the environmental protection of Ceará, are great challenges. Ceará will be a protagonist of this new economy that the world is guiding, but these projects will not happen overnight. I think that between ten and 20 years Ceará will be a developed state and a reference in the region.
What does Ceará expect from the international investors that are arriving and what does Ceará have to offer them?
Ceará is offering a great environment to do business, seeking to facilitate and guarantee for these investors that it is worth investing in Ceará. That here they will find good governance, a land with resources and opportunities with infrastructure, with adequate human capital. What we expect from them is that they will come to qualify this base of companies that produce, that generate jobs, not only produce but also generate more jobs in Ceará, increase the wealth of the State so that, through this wealth, they can know how to appropriate and transfer these resources in a more inclusive way to reduce inequalities. We need partners and Ceará is not an entrepreneur alone. Even with the participation of the State, we created the conditions for these investors to understand that the best place to invest in Brazil, especially in the Northeast of Brazil, is Ceará. The environment that is consolidating in the state of Ceará has public management, academia and society together and united. One of the main points was to create an environment that was less bureaucratic, more simplified, more agile, responsive and resolute for the investor. Improve our public management, improve our governance, improve our governability, better integrate with organized civil society, with entrepreneurs, with the sectors that produce, better use universities and get closer to the knowledge base. These are challenges to consolidate this project in the next ten years in Ceará.
What is the message for incoming investors and potential investors interested in expanding their business in Ceará?
Ceará is a land that has many opportunities, all guarantees established, which is improving its facilitation process for investors to come to settle. There is no restriction for those who want to invest, whatever the size. One of the main projects we have created in this area of ​​energy transition is distributed generation. There are more than ten thousand companies employing three or four people. Three, four people for more than ten thousand companies, is very representative. Few segments in Ceará generate such a large number of jobs, the same thing is happening in digitalization. There are more than ten thousand software development providers working here in Ceará. My message is that Ceará is structured, it is ready, it has had good governments and that investors come to take advantage of the opportunities that Ceará is offering, earn money and make our growth with us.